While a third of our politicians are busy embezzling tax payer money, spending it on Christmas trees and flamboyant houses, another third is deep in debt paying for child support and showering their mistresses. The last one third is stealing the show with their impeccable taste in clothing. From parliament walkways to international visits to local harambee meetings, these politicians have left many women breathless, and the entire male generation sick with jealousy.
And as we prepare to see them battle for the 2017 General Election wins, here are the top 10 best dressed Kenyan male politicians.
Ali Hassan Joho
Kenya's very own McSteamy (ask Greys Anatomy fans), Governor 001 is definitely Kenya's best dressed male politician. Every outfit he dons seems to adore his well-created frame. Find him in casual, official or religious attire, The Emperor of Mombasa will leave you quoting Mark Twain
Najib Balala
He has always been a darling to the Kenyan community. Hate him for his politics or alliances, his sense of style and choice of fitting dark suits will leave you smiling. He is our very own McDreamy, with double slit suits, bright shirts, bright flowery ties and polo shirts being in sync with his every stride. His tall frame, light complexion, different hair colors and brawny body are the true definition of "Fashion is what you buy; style is what you do with it."
James Orengo
What is age? Is the question we all should ask when it comes to Jimmy. His pricey fitting pin-stripe suits, casual checked shirts and untucked shirts envelop his 60-something frame to remind you that dressing is a way of life. Truly, Jimmy likes his money where he can see it- hanging in his closet.
Ababu Namwamba
He is the king of fitting. You will always spot him in well-cut suits with a polka dot kerchief, occasional white linen and fitting jackets. His quote? A man should look as if he has bought his clothes with intelligence, put them on with care and then forgotten all about them.
Karungo wa Thang'wa
Quite a milestone, given that Kikuyu men are one of the worst dressed males ever. For Karungo, we will always be grateful that he left radio. The tall slender man will gracefully show you that IQ is necessary when it comes to fashion. Spot him in his laundered suits, velvet blazers and canvas shoes. Clothes and manners do not make the man; but when he is made, they greatly improve his appearance.
George Theuri
Have you seen a man elegant in official wear, but even more elegant in casual wear? Meet George Theuri; bling, browline glasses,body hugging t-shirts and caps.
Mutula Kilonzo
Taking after his father, Mutula will clad in double vent pinstripe suits, velvet jackets and collarless branded shirts. A tailor from Hong Kong has served this family well, don't you think?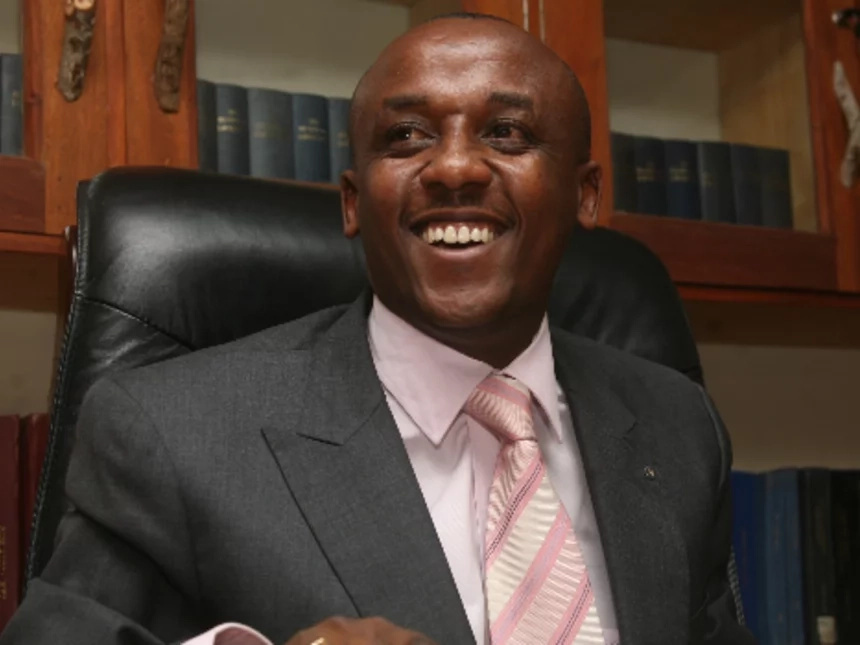 Kimani Ichungwa
The ever smiling Ichungwa will be your best teacher when it comes to matching colors and fitting suits. Plain colored, striped, windowpane, navy gingham, paisley ties and hairline stripe shirts.
Ken Obura
Jeans, velvet pants, windowpane striped suits and polo shirts are Obura's MO. The dark man oozes elegance when in stripped ties, bright shirts and plain black and blue suits. Kisumu, and Kenya at large, is thankful.
Gideon Mbuvi
Believe it or not, "Sonko", as he is most commonly called, makes it to this list. With a name that reminds you of some struggling rural teenager who believes he can rap like JayZ, Sonko has brought popstar culture to the streets in parliament.
Last year, in an event in Uganda, officials there thought him to be the leader of the Kenyan delegation. Sonko found himself being chauffeured in an official Ugandan government limo, and shared a dais with President Museveni, while his fellow Kenyan politicians were shoved to make way for him.
Photos: Courtesy